I have been trained as a bespoke tailor working with my father James at James Personal Tailor & Son in Manchester, since 1999. Over this time of precise training i have been carrying out alterations along with making bespoke jackets, trousers and suits. Along with altering and repairing all types of suits and clothing, i have found a real passion for denim.
Taking extra time around repairing and restoring my own favorite denim jeans and also doing patch work on new denim i have purchased.
In our shop in Manchester city centre, i have offered the restoration and repairing service to all customers, where i have found a huge calling for precision tailoring work to denim clothing, such as replacing the original finish on the bottom of jeans.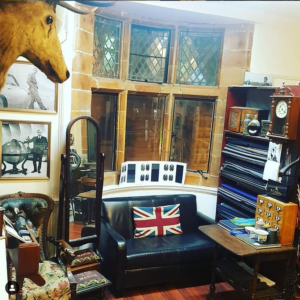 I have a complete understanding of how people have a desire to wear the same denim day after day and at some point your denim you are wearing will one day wear out, this is where i can step in and restore and re work your denim into a usable pair of jeans that will stand up to even more wear and tear for a fair few years to come.
You can find our bespoke tailoring web site at jamespersonaltailor.co.uk and tailorsinmanchester.co.uk
I repaired Lionel Ritchie's favourite Roberto Cavalli stage pants while he was on tour in Manchester
Click the above picture for a link to the Manchester Evening News article
Here is a company profile video about the bespoke tailoring.
Men's Health Magazine Feature August 2009
Article on ' The New Thrift ' by Toby Wiseman
Please click on any of the above pictures to read the article in more detail
Also featured in Proper Magazine 26/3/12
Read the article here
I was also asked to take part on the Channel 4 program with Dawn O'Porter, the show is called This Old Thing and first airs on the 25th of June 2014 at 8pm. Its a six part series, of which i am part of the work shop team of tailors an seamstresses. For more info on the show This Old Thing visit Channel 4's website.
Featured on multiple media over the years, here is a selection.
Ethical consumer was an interesting feature on our aim to repair jeans rather than keep buying new.
With lots of our customers very pleased with results, the word has spread through word of mouth and social media.
Direct link to the article https://www.thesimplethings.com/blog/2013/01/21/shop-love-the-denim-doctor-think-thrifty-repair-your-fave-jeans-dont-throw-them-away?rq=denim
Trade References
Working in partnership with my father at James Personal Tailor & Son we have carried out clothing alterations and repairs for the majority of top retail establishments in Manchester city centre including the following:
Life
DKNY
Henri Lloyd
Armani
Hugo Boss
Selfridges
Flannels
Intro
Joesph
Zara
Ted Baker
Paul Smith
Reiss
Top Shop
Top Man
Oasis
Karen Millen
Kookai
Marks and Spencer
House of Frazer