We now offer CHAIN STITCHING!!!! over a year of searching for a chain stitch machine I finally own one.
Check out the examples below (Chain stitching is not just for look when new, it causes a roping effect to the bottoms over time, check out this page for more examples of 'roping')
Near invisible knee repair to these True Religion denim jeans
Large rip/tear to rear of denim jean jacket, discreetly repaired to a near invisible standard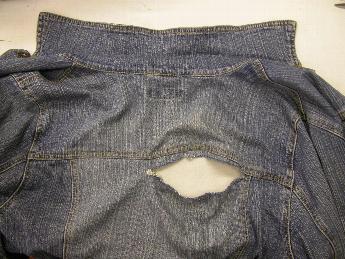 Couple of before and after Instagram posts of crotch repairs
'Crutch / crotch blow out' repair/restoration work to these Levi 501 denim jeans
This is the stages i go through to take in the waist and seat on a Edwin pair of jeans
This is a plain cut and sew shorten leg process to a pair of Evisu japanese selvedge denim (original/vintage finish not required)
This was a large 'crotch blow out' repair/restoration work i carried out to these Cipo and Baxx denim jeans
Same pair of Cipo and Baxx denim jeans, but also had rip in denim to the upper thigh area
This is an original Wrangler denim jacket from 1969, the gentleman who brought it to me has had this since new and was his most favourite item of clothing he owns. Being 41 years old ! and worn every year and pretty much every day of its life, its had the following issues, collar had serious wear, also the front edges and upper shoulders along with the bottom front parts. Below is the before and after pictures. He was amazed by the results, it was a joy to work on this jacket for him.
Before in what looks like un-repairable condition
After fully restored
Front bottom areas restored using new denim and new wallet pocket added to inside
Edwin selvedge jean, tapering leg width whilst retaining the inner selvedge seam, this is what i call the 'spread' finish
They only needed tapering from a 16″ bottom down to a 15″ bottom width, so in this case the customer went for the option of tapering and spreading the finish open.
Before with 16″ wide hems
After with 15″ wide hems with inner selvedge left intact
Thick original cotton stitching
Apc selvedge jean, tapering leg width whilst retaining the inner selvedge seam, this is what i call the 'inner stitch removed' finish
They needed tapering from a 18″ bottom down to a 16 bottom width, so in this case the customer went for the option of tapering and removing the inner single stitch seam.
Before with 18″ width hems
After with 16″ width hems with the inner selvedge seam intact and original width selvedge
Evisu Millenium Edition i had in recently for shorten with chain stitching
Manchester selvedge denim jean company Joe & Co in for some slight running repair work.
Mixture of some fairly rare selvedge denim in for some work.
This is redo job which i had sent to me, the poor chap who sent them in had this done to them by a local alteration shop to alter the waist line and i wonder why some people don't want to alter the waist on there jeans and especially a pair of 'Diors' its high treason to denim, to do work in such a way. They had done two darts either side of the center seam. From outside it doesn't look to bad, but from the inside the inner denim is bulky and the fitment down the seat was poor and in general a typical quick job i see from time to time.
Before with two darts in waist line
After, I removed what had been carried out with the darts, carefully removed the stitching and took in with the original double stitch center seam, it needed taking in by around 4″ (from a 38″ to a 34″) so the pockets did get closer together, but the customer was fine with this and it was a much better fitment than before. Inside view shows the new finish.
Levi denim jean jacket, customer has had the jacket for over 20 years and the collar had discoloured and is going pretty thin and threadbare
So i removed the collar and inserted new denim to the insides
Then repaired the top areas and blended all the colours and stitching, much stronger and a new lease of life to this Levi vintage jacket
These are a pair of ladies True Religion denim jeans which needed the pocket edges repairing
After, fully repaired to a near invisible outcome.
Quick patch repair, fused and stiched to repair. This is an extreme example, but was the customers favourite Abercrombie and Fitch jeans. Customer just wanted a quick and cheaper repair carried out and was very happy to quote 'thank you for saving my favourite jeans, ive had them for 5 years and they fit me perfect, they just look even more retro now'
Discrete repair to the knee area, fusing and stitch repair was needed to these Armani jeans
Pocket repair to G Star jeans
Knee repair using cotton shirt material
Below are some examples of standard and retro/vintage jean finishes
Taking in the waist area on these Prps Jeans selvage / selvedge denim jeans
Thigh repair
Small crutch repair to a pair of Levi 501 jeans, using over stitch for heavy durabilty
Same pair as above, also having a knee repair using stripey Scabal suit jacket material
This is a typical re-alteration i do from time to time, to be fair it was a nice alteration done by another alteration company, but if you notice the barely visible yellow thread they have used in there alteration, the customer brought this in for me to remove the old thin yellow thread stitch and replace with the thick denim thread to give a more original finish.This may seem extreme but being Ed Hardy special edition jeans, he wanted them as original as poss, hence the re altertion by myself.
Strengthen patch repair work to seat area on ladies diesel jeans
Funky style patch work and tapered from knee to make skinny fit
Patch work to the 3 small holes on the top part of the jeans
Close up pictures
Back split repair work, again using new denim behind and then overstitch on top to hide the 'white' spilt threads
Gant cord jacket, repair to inside wallet pocket area
The old pocketing had worn threw on these Levi's, new pocketing added (deeper than standard at customers request)
These Ralph Lauren jeans had gone very thin in the seat/backside area
These levi vintage jeans were the ones i worked on for Toby Wiseman feature editor of Men's Health magazine, you can read the full article on the My background page of the site.
He had been wearing them too long and hence the hole had appeared on both legs at the point they needed shortening to
Compare thread for best possible colour match, i use Guttermann thread which is a thicker original type
Shortened with original retro/vintage finish retaining
New button studs added to these All Saints denim jeans
Large front crutch area restoration repair work
Tidying up type repair/alteration to these vintage levis
Few pictures of 'The Denim Doctor Mini'
Give me a wave if you see me on the way to work !!! 🙂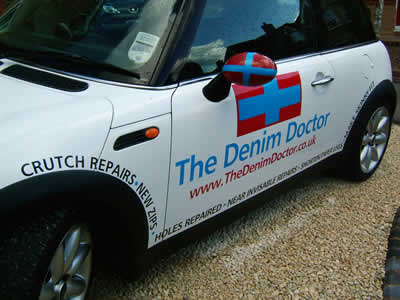 Please check out our blog and Instagram account for regular posts of work I am doing at the moment.